Breaking Down New Red Dead Redemption 2 Screenshots – The game is delayed, lets talk about screenshots. Did anyone really think that Red Dead Redemption 2 would arrive this year (and sadly it isn't) but to keep us all interested Rockstar released over a half dozen Red Dead Redemption 2 Screenshots. Let's take a look, while we wait… for sometime after March 31st 2018.
The next installment (rumored to be a prequel) will be the third in series and it looks absolutely gorgeous. The Wild West looks down right awesome in these captures. Sure they are promotional still images, but damn they do look good. joker123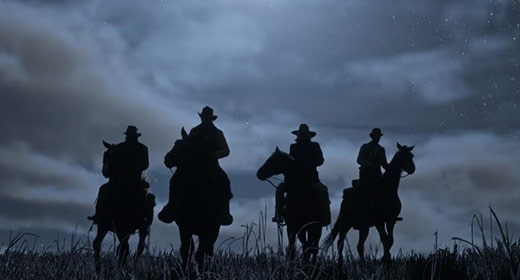 Developed by the creators of Grand Theft Auto V and Red Dead Redemption, Red Dead Redemption 2 is an epic tale of life in America's unforgiving heartland. The game's vast and atmospheric world will also provide the foundation for a brand new online multiplayer experience.
Four riders at midnight, a moon glow silhouette. Does this imply a day – night cycle? Not sure but this image certainly captures the essence of big sky country.
Train heist, before… and after (maybe during). Gotta believe this implies some good ole' train heisting.
Speaking of rhyming and stealing, here is a stage coach. Possibly armed with the latest in anti-theft devices – aka shotguns. I count at least four guards riding, two on-board and maybe two inside.
About them guns, check out the detail in the Red Dead Redemption 2 screenshot. Beautiful, wonder if that is a legendary skin.
Apparently it won't all be happening in the dry high plains. Those trees look pretty big, I going to guess Redwoods – sounds like we are going to Cali.
Finally back in town to sell my loot, and upgrade my skills.
Looks good can't wait. RDR2 will arrive in 2018 for Xbox, and PlayStation. Per an exclusivity agreement with Sony Interactive Entertainment, certain online game content will be a timed exclusive for the PlayStation 4.